Archived events


Watching Dance | Moving Audiences

The Watching Dance Project is coming to an end after three years of research funded by the AHRC. During this time researchers across four UK universities have used audience research and neuroscience to explore spectator responses to dance, focusing on kinesthetic empathy (the sensation of movement in the observer). This programme of events was designed to bring that research to light and discuss how it can feed back into the arts, science, dance and academic communities.
Watching Dance | Moving Audiences

Thurs 10 March 2011 at The Greenroom, 54-56 Whitworth St West, Manchester

M1 5WW, 8pm




Panel event and open discussion in association with Turn 2010 and The Watching Dance Project - www.watchingdance.org

How do choreographers and dancers work together? How do their interactions impact on the audience experience? What can audiences contribute to choreographers' practice? Artists from the Turn platform in dialogue with the Watching Dance Project (AHRC) - opportunities for audience participation.

This event is free and there is no need to book

Watching Dance Now and Ailey 2

Weds 16 March 2011 at The Lowry Theatre, Pier 8, Salford Quays, M50 3AZ, 5pm

What have we found out and what does it mean for choreographers, dancers, audience developers, audience members and educators. Followed by a wine reception and a public performance by Ailey 2.

This presentation and networking event is for a limited number of partners, volunteers and stakeholders so if you would like to attend please contact watchingdance@manchester.ac.uk for booking and availability.

Performer-Spectator Relations in Dance

Saturday 19 March as part of Dance and Academia: Moving the Boundaries,

Corpus Christi College, Oxford


Choreographer Rosie Kay and Watching Dance researchers discuss their collaboration exploring audience responses to movement and sound.

Moving Together: Connecting through Dance

Sunday 20 March at The Lowry, Pier 8, Salford Quays, M50 3AZ, 12 noon


Workshop with Bonnie Meekums, based on neuroscience and dance movement psychotherapy, aimed at developing an understanding of how dance movement can help deepen relationships.

Please contact watchingdance@manchester.ac.uk for booking and availability


Mirror Neurons: Movement Learning in the Wink of an Eye

Friday 25 March at Laban, Creekside, London SE8 3DZ, 2 - 3.30pm


Workshop with Glenna Batson. In an atmosphere of play, participants will explore how simple movement sequences readily convey the phenomenal qualities of embodied, shared action.

Please contact watchingdance@manchester.ac.uk for booking and availability

Kinesthetic Empathy in Action: Watching Dance Round Table

Notes from the Round Table discussion

Friday 25 March at Laban, Creekside, London SE8 3DZ, 5 - 6.30pm


A panel of practitioners, researchers, artists and choreographers explore the potential of kinesthetic empathy to influence debates and developments in the arts and sciences.

Please contact watchingdance@manchester.ac.uk for booking and availability
Kinesthetic Empathy across Disciplines
Thurs 3 Feb 2011, A7, Samuel Alexander Building, University of Manchester, Oxford Road, M13 9PL, 5pm - 7pm
What is Kinesthetic Empathy and how does it illuminate research and practice across different disciplines? A panel chaired by Prof Dee Reynolds (Manchester – SLLC), with Karen Wood (Manchester – SLLC), Dr Matthew Reason (York – Theatre and Performance), Tal-Chen Rabinowitch (Cambridge – Musicology) and Nicola Shaughnessy (Kent – Performance Theory) explore this theme. Panel topics include screen dance, creative writing, musical group interaction and applied theatre practice. The event will be followed by a wine reception.
This event is free and there is no need to book
Somatic Gathering 2010
29 - 30 October , Lancaster, UK
To create a meeting place to gather and to celebrate existing practice in Somatic Movement, and to discover and nurture emerging and developing practice
Further information at http://www.lovesbody.co.uk/somaticmovement/
V

ital Signs 2: Engaging Research Imaginations
The 2nd International and Interdisciplinary Conference
Wallpaper Dancer
Dance & Spectacle
Society of Dance History Scholars Annual Conference

8-11 July 2010 at The

University of Surrey, Guildford and The Place, London, UK
Submission deadline for proposals 2 November 2009
Further information at http://www.sdhs.org
moves10 - Programme Launch & moves Night
Programme Launch & moves Festival of Movement on Screen Night
Following a taster screening of programme highlights, artists Bridget Fiske and Rachel Davies will offer an exclusive glimpse of what's to come.
7pm Tuesday 16 March 2010
Mezzanine Bar, Contemporary Urban Centre (Novas), 41-51 Greenland Street, Liverpool, L1 0BS
More information at http://www.movementonscreen.org.uk/
Annual Conference of Performance Studies International
PSi 16 Performing Publics
Intelligence and Action ­II – New Perspectives
in Dance and Cognitive Science
November 11-14, 2009 at the Center for Interdisciplinary Research (ZiF), Bielefeld
Hosted by the Center of Excellence "Cognitive Interaction Technology" at Bielefeld University
Further information at http://www.cit-ec.de/dancos/
Movements between Hearing and Seeing
Music, Dance, Theatre, Performance and Film
Manchester Dances: Natural Movement 1900-1930
Dance Ethnography Forum
October 08 2008: THE WATCHING DANCE CONSULTATIVE FORUM
The Watching Dance Consultative Forum on 10 October was a great success, engendering new inter-disciplinary relationships and promoting a healthy dialogue around the key issues of research.
We would like to offer our sincere thanks to everyone who came along.
The day began with a short introduction by Dee Reynolds, principal investigator, who introduced the project team and outlined the key terms, research questions, project aims and methodology in some detail. Dee also addressed some of the questions and challenges raised by the combination of neuroscience and audience research.
'I don't know if its going to be possible or even desirable to iron out all these differences' said Dee 'Rather we need to work with area of meaningful intersection, and highlight points of difference for discussion'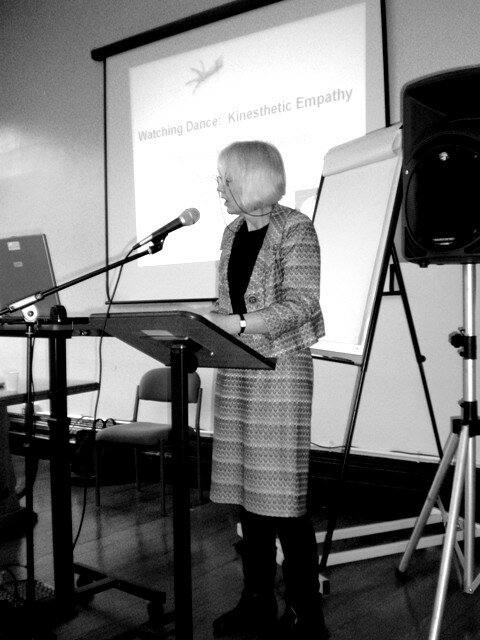 Principal Investigator Dee Reynolds addressing the Forum.
There was a short question and answer section following Dee's presentation.
This was followed by a presentation by project investigator Marie-Hélène Grosbras on fMRI which focused on the project's first neuroscience study 'Motor Resonance when Viewing Live and Recorded Dance'. She presented a design of the study as well as some preliminary data acquired in the pilot period. Vincent Walsh gave a response to Marie Helene's presentation, and this led on to an open Q&A session
Frank Pollick gave a presentation on TMS with the aim of addressing both the scientists and non-scientists with some details and slides explaining the neuroscience methodology. Lawrence Parsons responded to Franks' talk and this was followed by an open Q&A on the topic of TMS
After a short break Matthew Reason presented on the topic of Audience Research, its methods, benefits, limitations and variations, and how the subjective loading of emotion and meaning onto movement relates to dance and kinesthetic empathy. Martin Barker responded by discussing his experience of researching audience responses to film and the particularities of the methodology.
As Susan Melrose was unable to join us for her scheduled response, we concluded the morning session with a Q&A session on the topics discussed so far.
After lunch there were open Q&A sessions on the key areas of research in the conference room. The group split off into four topic-related groups and were encouraged to break away from their own specialist areas of research to discuss TMS, fMRI and audience research/dance. This section of the day was extremely successful and stimulated some involved and valuable dialogue.
We proceeded back to the main room for a series of presentations from leading academics and practitioners relating their work to kinesthetic empathy.
The first presentation was from Scott DeLahunta and Kate Stevens, who talked about their own audience response research and showed footage of specially choreographed dance pieces.
Daniel Glaser from the Wellcome trust followed with a presentation about his experience of working with the intersection between arts and science. This was followed by a presentation by dancer and choreographer Jane Bacon.
Lastly Rachel Davies presented her work as a dance filmmaker, showing clips from 4 pieces. She talked about conveying kinesthetic empathy to a screen audience, both on small screen and in installation / live performance.